empressarcana
copy-pasted from

empressreadings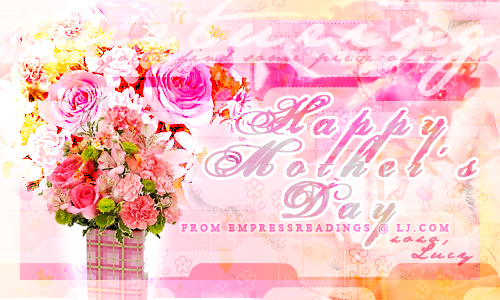 for my graphics please check out
Fag Hag Graphics @LJ.com
First of all thanks to everyone that has joined thus far! I'm sorry that I don't have anything to offer this time around, but I do promise more goodies soon.
Today is a very special day, Mother's Day, but in actuality we shouldn't only commemorate such a wonderful day once a year. Believe it or not, everyone is a mother to someone out there, whether they gave birth to the child, adopt, consider their pets their children... There are numerous forms of mothering, and countless forms of nurturing. As long as you give love to a living creature, I'm sure they'll in turn consider you a mother figure. Gender should never be an issue when it comes to loving or caring.
So today, I would like to wish all mothers, expectant mothers, future mothers, and those that feel they are mothers in their heart, a very Happy Mother's Day. Keep safe, and may whoever you believe in guide you throughout the rest of your journey.
Love you all. ;***
xoxo,
Lucy [[ of the Empress Arcana and damn proud! ;) ]]
P.S. Here's some Darren Hayes for everyone, because this song is indeed deserving of such a name. I love you Darren! ♥♥♥
http://www.youtube.com/watch?v=bzTwYOJZ5SI